My Blog
Posts for: October, 2017
By Roselle Dental Center
October 23, 2017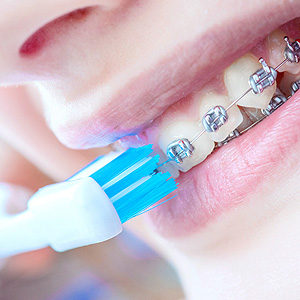 Orthodontic treatment is a big investment. But given the benefits for future good health and a more attractive smile, it's well worth it.
In the here and now, though, braces wearers face a different threat to their dental well-being — dental disease. Wearing braces can actually increase the risk of disease and make it more difficult to fight.
Tooth decay and periodontal (gum) disease, the two most common forms of dental disease, usually arise from plaque, a thin film of bacteria and food particles on tooth surfaces. The bacteria produce acid, which erodes enamel and makes the teeth susceptible to decay. Certain bacteria can also infect the gums and eventually weaken their attachment to teeth. Thorough brushing and flossing everyday removes this disease-triggering plaque buildup.
But braces' hardware can make brushing and flossing more difficult. The brackets attached to the teeth and wires laced through them make it more difficult for floss and brush bristles to access all the areas around the teeth. Plaque can build up in certain spots; it's estimated braces wearers have two to three times the plaque of a person not wearing braces. Acid can also remain in contact with some of the enamel surface for too long.
It's important, therefore, if you wear braces to make a concerted effort to brush and floss thoroughly. Besides improving technique and taking more time, you might also consider additional aids. You can obtain toothbrushes specially designed for use with braces, as well as floss holders or threaders that make it easier to access between teeth. Another flossing alternative is an oral irrigator that sprays water under pressure between teeth is an alternative to flossing.
As a precaution against acid damage, we can boost enamel protection with additional fluoride applied to your teeth. We may also prescribe antibacterial rinses to keep the bacteria population low.
Above all, be sure to look out for signs of disease like swollen or bleeding gums or pain. As soon as you sense something out of the ordinary, be sure and contact us.
If you would like more information on keeping your teeth disease-free while wearing braces, please contact us or schedule an appointment for a consultation. You can also learn more about this topic by reading the Dear Doctor magazine article "Caring for Teeth During Orthodontic Treatment."
By Roselle Dental Center
October 15, 2017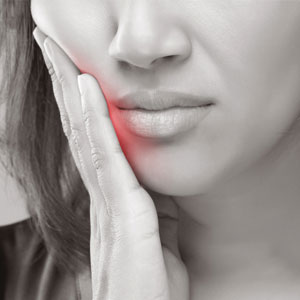 Your temporomandibular joints (TMJ), located where your lower jaw meets the skull, play an essential role in nearly every mouth function. It's nearly impossible to eat or speak without them.
Likewise, jaw joint disorders (temporomandibular joint disorders or TMD) can make your life miserable. Not only can you experience extreme discomfort or pain, your ability to eat certain foods or speak clearly could be impaired.
But don't assume you have TMD if you have these and other symptoms — there are other conditions with similar symptoms. You'll need a definitive diagnosis of TMD from a qualified physician or dentist, particularly one who's completed post-graduate programs in Oral Medicine or Orofacial Pain, before considering treatment.
If you are diagnosed with TMD, you may then face treatment choices that emanate from one of two models: one is an older dental model based on theories that the joint and muscle dysfunction is mainly caused by poor bites or other dental problems. This model encourages treatments like orthodontically moving teeth, crowning problem teeth or adjusting bites by grinding down tooth surfaces.
A newer treatment model, though, has supplanted this older one and is now practiced by the majority of dentists. This is a medical model that views TMJs like any other joint in the body, and thus subject to the same sort of orthopedic problems found elsewhere: sore muscles, inflamed joints, strained tendons and ligaments, and disk problems. Treatments tend to be less invasive or irreversible than those from the dental model.
The newer model encourages treatments like physical therapy, medication, occlusive guards or stress management. The American Association of Dental Research (AADR) in fact recommends that TMD patients begin their treatment from the medical model rather than the dental one, unless there are indications to the contrary. Many studies have concluded that a majority of patients gain significant relief with these types of therapies.
If a physician or dentist recommends more invasive treatment, particularly surgery, consider seeking a second opinion. Unlike the therapies mentioned above, surgical treatments have a spotty record when it comes to effectiveness — some patients even report their conditions worsening afterward. Try the less-invasive approach first — you may find improvement in your symptoms and quality of life.
If you would like more information on treating TMD, please contact us or schedule an appointment for a consultation. You can also learn more about this topic by reading the Dear Doctor magazine article "Seeking Relief from TMD."