My Blog
Posts for tag: gum recession
By Roselle Dental Center
October 31, 2018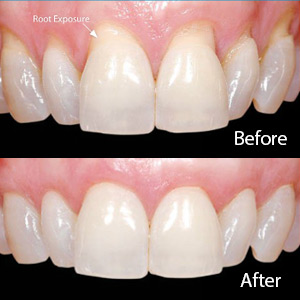 Gum recession is an all too common problem for millions of people that if left untreated could lead to tooth and bone loss. But the good news is not only can the process be stopped, much of the damage can also be repaired through periodontal plastic surgery.
Gum recession occurs when the gum tissue protecting the teeth detaches and draws back to expose the root surface. This exposure may result in a range of effects, from minor tooth sensitivity to eventual tooth loss. There are a number of causes for gum recession, including overaggressive brushing or flossing, biting habits or badly fitting dentures or appliances.
The most prominent cause, though, is periodontal (gum) disease, a bacterial infection triggered by plaque buildup on tooth surfaces due to poor oral hygiene. Fortunately, early gum disease is highly treatable by thoroughly cleaning tooth, root and gum surfaces of plaque and calculus (hardened plaque deposits), along with possible antibiotic therapy, to reduce the infection and promote tissue healing.
Unfortunately, advanced cases of gum recession may have already resulted in extensive damage to the tissues themselves. While disease treatment can stimulate some re-growth, some cases may require reconstructive surgery to repair and further rebuild the tissues.
There are several techniques periodontists (specialists in gums, bone and other dental support structures) or dentists with advanced training can perform to "re-model" recessed gum tissues. One of the major areas is placing tissue grafts (either from the patient or a human donor) at the site to encourage further tissue growth. Properly affixing a graft requires a great deal of training, skill and experience, especially in cases where the graft may need to be connected with adjoining tissues to establish a viable blood supply for the graft.
In skilled hands, a periodontal surgical procedure is fairly predictable with minimal discomfort afterward. And the lasting effects are well-worth it — not only will your health benefit from restored gum tissue and greater protection for your teeth, you'll also enjoy a more attractive smile.
If you would like more information the treatment of gum recession, please contact us or schedule an appointment for a consultation. You can also learn more about this topic by reading the Dear Doctor magazine article "Periodontal Plastic Surgery."
By Roselle Dental Center
January 06, 2018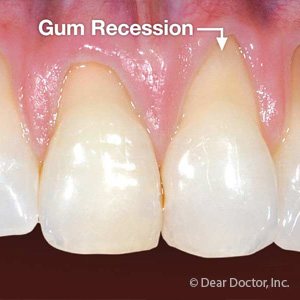 Your mouth is a lot like the Wild West — home to millions of bacteria and other microbes, some of which are definitely not "the good guys." But your teeth are well-protected from these hostile forces and their acidic waste products: with enamel shielding the visible part of your tooth, your gums protect the parts you can't see.
As effective as they are, though, your gums aren't invincible: their greatest threat is periodontal (gum) disease. This bacterial infection arises from plaque, a thin film of bacteria and food particles accumulating on teeth due to inadequate brushing and flossing.
The infected tissues soon become inflamed (red and swollen), a natural defensive response from the immune system. The longer they're inflamed, however, the more likely they'll begin detaching from the teeth. The gums may eventually shrink back or recede from the teeth, often causing them to appear "longer" because more of the tooth is now exposed to view.
Gum recession doesn't bode well for your teeth's survival: the exposed tooth and underlying bone can become even more susceptible to infection and damage. In the end, you could lose your tooth and portions of the supporting bone.
Treatment depends on the severity of the gum recession. In mild to moderate cases, we may only need to perform the standard gum disease treatment of removing plaque and calculus from all gum and tooth surfaces (including below the gum line) with special instruments. This helps reduce the infection and allow the gums to heal and re-establish attachment with the tooth. In more advanced cases, though, the recession may be so extensive we'll need to graft donor tissue to the area using one of a variety of surgical techniques.
Although the right treatment plan can help restore your gum health, there's another approach that's even better — preventing gum disease in the first place. You can reduce your disease risk by practicing daily brushing and flossing and visiting your dentist regularly or when you see symptoms like gum swelling or bleeding. Taking care of your gums won't just save your smile — it might also save your teeth.
If you would like more information on diagnosing and treating gum disease, please contact us or schedule an appointment for a consultation. You can also learn more about this topic by reading the Dear Doctor magazine article "Gum Recession."
By Roselle Dental Center
August 16, 2017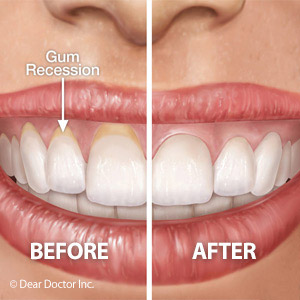 Your gums not only help hold your teeth securely in place, they also help protect them. They're also part of your smile — when healthy and proportionally sized, they provide a beautiful frame for your teeth.
But if they become weakened by periodontal (gum) disease, they can detach and begin to shrink back or recede from the teeth. Not only will your smile be less attractive, but you could eventually lose teeth and some of the underlying bone.
Treating gum recession begins with treating the gum disease that caused it. The primary goal is to remove the source of the disease, a thin film of food particles and bacteria called dental plaque, from all tooth and gum surfaces. This may take several sessions, but eventually the infected gums should begin showing signs of health.
If the recession has been severe, however, we may have to assist their healing by grafting donor tissue to the recession site. Not only does this provide cover for exposed tooth surfaces, it also provides a "scaffold" for new tissue growth to build upon.
There are two basic surgical approaches to gum tissue grafting. One is called free gingival grafting in which we first completely remove a thin layer of surface skin from the mouth palate or a similar site with tissue similar to the gums. We then attach the removed skin to the recession site where it and the donor site will usually heal in a predictable manner.
The other approach is called connective tissue grafting and is often necessary when there's extensive root exposure. The tissue is usually taken from below the surface of the patient's own palate and then attached to the recession site where it's covered by the surrounding adjacent tissue. Called a pedicle or flap, this covering of tissue provides a blood supply that will continue to nourish the graft.
Both of these techniques, but especially the latter, require extensive training and micro-surgical experience. The end result is nothing less than stunning — the tissues further rejuvenate and re-attach to the teeth. The teeth regain their protection and health — and you'll regain your beautiful smile.
If you would like more information on treating gum recession, please contact us or schedule an appointment for a consultation. You can also learn more about this topic by reading the Dear Doctor magazine article "Periodontal Plastic Surgery."