My Blog
Posts for: February, 2021
By Roselle Dental Center
February 18, 2021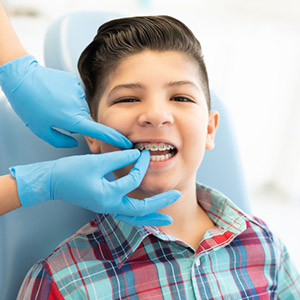 In any given year, 4 million tweens and teens are in the process of having their teeth straightened with braces or clear aligners. It's so common we tend to consider orthodontic treatment for young people as a rite of passage into adulthood.
But it doesn't necessarily have to be that way—it might be possible to stop or at least minimize a poor bite before it fully develops. That's the goal of interceptive orthodontics—treatments that head off or "intercept" a bite problem early.
The goal isn't necessarily to reposition misaligned teeth, but to correct a problem that can lead to misalignment. Here are some examples.
A narrow jaw. A narrowly developing jaw can crowd incoming teeth out of their normal positions. For the upper jaw, though, we can take advantage of a temporary separation in the bones in the roof of the mouth (palate) with a device called a palatal expander. Placed against the palate, the expander exerts outward pressure on the teeth and jaw to widen this separation. The body fills in the gap with bone to gradually widen the jaw.
Abnormal jaw alignment. It's possible for a jaw to develop abnormally during childhood so that it extends too far beyond the other. Using a hinged device called a Herbst appliance, it's possible to interrupt this abnormal growth pattern and influence the bones and muscles of the jaw to grow in a different way.
Missing primary teeth. An important role for a primary (baby) tooth is to hold a place for the future permanent tooth. But if the primary tooth is lost too soon, other teeth can drift into the space and crowd out the intended permanent tooth. To prevent this, we can insert a space maintainer: This simple looped metal device prevents teeth from drifting and preserves the space for the permanent tooth.
Although these and other interceptive treatments are effective, some like the palatal expander do their best work within a limited age frame. To take advantage of interceptive orthodontics in a timely manner, parents should seek a bite evaluation for their child from an orthodontist around age 6. The earlier we detect a growing bite problem, the greater your chances for successful intervention.
If you would like more information on treating emerging bite problems early, please contact us or schedule an appointment for a consultation. You can also learn more about this topic by reading the Dear Doctor magazine article "Interceptive Orthodontics."
By Roselle Dental Center
February 08, 2021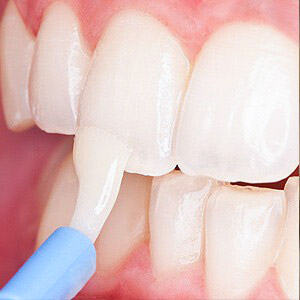 Tooth decay is perhaps the biggest danger your child's teeth can face. Not only can it rob them of primary teeth now, but the loss of teeth at this early age could also lead to future bite problems.
That's why it's important to reduce the risk of tooth decay through daily brushing and flossing and regular dental cleanings. You child may also benefit from another measure that enhances those other hygiene efforts—topical fluoride applied directly to tooth surfaces.
Fluoride is a naturally occurring chemical that's been demonstrated to strengthen tooth enamel against contact with acid, the main cause of tooth decay. Today, fluoride is added not only to toothpastes and other dental hygiene products, but also in minute amounts to drinking water supplies across the country.
Even if your child takes in fluoride through one or more of these sources, there may still be a benefit to a topical application. For one, topical applications are usually stronger than fluoride toothpaste or fluoridated water supplies and can have greater effect. And because fluoridated water is ingested first before traveling through the bloodstream to the teeth, directly applied fluoride can strengthen them much faster.
But are these stronger concentrations of topical fluoride safe? Studies have shown no long-term health risk, but there can be temporary side effects like stomach pain, vomiting or headaches if the patient accidently swallows too much of the solution during the application. These side effects, however, can be minimized through safety measures dentists put in place during the procedure.
One study by the Cochrane Oral Health Research Group seems to show that the long-term benefit of topical fluoride is well worth this minor risk of side effects. After reviewing several scientific studies involving thousands of patients, the group found an overall 28% reduction in decayed, filled or missing teeth over a number of years among those who received a topical fluoride treatment.
Because of these and other forms of evidence, fluoride applications in either gel, foam or varnish forms have become a routine part of preventive care for children. Discussing it with your dentist, you may find it could be an extra weapon for your child in fighting tooth decay.
If you would like more information on how to protect your child's teeth from decay, please contact us or schedule an appointment for a consultation. You can also learn more about this topic by reading the Dear Doctor magazine article "Fluoride Gels Reduce Decay."